2015年6月12日
Crappy Robot Battle returns again! The top 10 matches in Hebocon in Osaka
Only people who can't build robots gather together and play robot sumo no matter what. That's Hebocon.
In this event, you will enjoy watching robots who barely go forward fight each other while tottering like toddlers.
On March 28, the first regional event "Hebocon in Osaka" was held.
It took place in Grand Front Osaka, directly connected to Osaka Station. In the humongous entrance hall, up to 450 people stopped by to watch the event on foot.
As usual, great bouts were seen in the frenzied site. This article will tell you about 10 bouts that left great impressions.
For the latest news on Hebocon, see our Facebook page.
1980 Born in Gifu. Making tricky and original devices of electric work, and collect music of frontier countries. Founder of Hebocon, a robot competition for those who don't have the technical skills to actually make robots.



---
A miracle born out of a garbage pile
I know it's sudden, but I want you to take a look at a photo taken after the event.
31 robots gather together
What is this? You can't help thinking about a garbage pile.

I may sound harsh, but it's actually a word of praise as far as Hebocon is concerned.
After all, participants gathered to compete the most Heboi, which means "technically poor," in the Kansai region.
During the event. The first floor was filled, with people watching on the second floor!
Heboi, clumsy, distracted, piece of junk, failure, coarse, trash, attitude toward life should be changed. The spirit of Hebocon is to consider these words to be praise and appreciate them as virtues.

This competition even has a rule such as "High-technology penalty." You will get penalized heavily for resorting to an advanced function. In the Hebocon world, it's a sin to be excellent.
Fans who stare at the slipshod picture that explains rules
Because of a communication error, only 2 corners of the ring happened to be round. As you would expect, the organizer is also heboi.
In this weird magnetic field, how did the bouts go about? Let us take a look at 10 memorable bouts.
First round second match

DGR-01
(Guruguru Park)

vs

Auto Nekoguruma
(Konoeda)
The DGR in DGR-01 stands for Daigoro(大五郎). It refers to the Japanese shochu liquor famous for being cheap and in a large quantity.
The creator had a hard time looking for Daigoro and found it after walking about 20 km.
Its special move is Daigoro hurricane. The wind pressure from the front propeller is designed to beat its opponent. However, the propeller is attached in the opposite direction, so it will never mow down its opponent. Anyone can make a mistake, but the creator didn't fix it even he noticed his oversight, revealing his blase attitude. How lazy!

Its opponent is Auto Nekoguruma. The Japanese word "Nekoguruma (猫車)" means wheelbarrows. It's written as Cat(猫) Cart(車) in Kanji.
A simple robot consist of a wooden frame with a cat attached.
It looks simple enough. It looks as if the robot goes forward as the toy cat pulls the cart. However, once it's turned on, it moves in a strange way.
It rolls!
The toy cat rolls around in response to a sound. By adding the wooden frame, Auto Nekoguruma's attack force is increased. Besides being heboi, it's an interesting idea, ordinarily crafted. Sumo-wise, the cat confuses the opponent by rolling around left and right (front and back?). Its furry surface causes a strong friction, giving a strong push.

On the other hand, Daigoro has a delicate frame and a thin body, looking fragile. Its deathblow is also incomplete.

We thought Auto Nekoguruma would beat him easily... Let's see what happened in the video.
Ready, set, and go... or we thought. Nekoguruma doesn't even flinch. Suddenly, maintenance time. Check the battery by opening its belly.
The creator halfheartedly closes the battery box and declared: "OK." Let's get started!
In the end, the cat didn't even move an inch, lying face up just as when the creator checked its battery in a loss.
He lost because...

*He couldn't find tools at home, so he just wrapped the lead wire around without soldering.
*He changed the battery just before the bout (inadvertently removing the lead wire)

While he had a good idea and a robot with a good performance, he lost because of his attitude toward life (losing things). The basic of the robot battle is a disciplined life. This was a significant bout that taught us such a lesson.
First round fifth game

TSUKUBOT No. 4
(Tsukuru Maeda)

vs

Leaning Tower of Pizza
(Taiki Tomoe)
Some of you may remember Tsukuru. In July last year he appeared in the first Hebocon competition as the youngest participant (11 years old), a hero who beat the archrival Ku-chan No. 0 in a white-knuckle battle.
Tsukuru's previous victory
With a simple-looking robot, he charmed the audience with his delightful smile. This time he showed up with an awesome robot.
Dead serious
A jet black body, brandishing 2 shinning swords. You can't tell this from the still photo, but when it's turn on, its eyes glow red. It has completely fallen into the dark side!

10 months have passed since last time. Tsukuru will be celebrating his 12th birthday soon. Kids grow fast. Once an innocent boy, now he seems to admire villains.
He's up against the largest robot in this competition, the Leaning Tower of Pizza.
A giant robot taking advantage of the Hebocon rule that has no height limits
The pizza part inclines back and forth like a seesaw. On top it stands tall the Leaning Tower of Pizza.

This is its strategy. First, it leans forward, sits still, and waits for the opponent to climb onto the pizza.
Once the opponent is on the pizza, it drips the weight (fried rice) on the tip of the fishing rod on the pizza, tilts the seesaw, and flips the opponent over!

Despite its huge body, it's built upon a well-thought-out strategy. Also, this is completely based on armchair theory.

Tsukuru, can you beat this giant tower?
As the match starts, TSUKUBOT No. 4 approaches the tower. The iPhone installed on the top of the tower is receiving a call from the creator's friend in the audience, inviting its opponent to climb onto the pizza.
As the friend tries to entice the opponent by saying "I'll give you dried rice" and "I have delicious dried rice," TSUKUBOT No. 4 stops just before running onto the pizza. Then, he had victory in his hand.
Let me explain. A Hebocon bout lasts for 1 minute, and after this time limit, the flight goes to a decision. The rule is that the one who moves a longer distance wins.

This rule was originally implemented to prevent participants who bring rocks and bricks from becoming the strongest. In this case, it's working.
As the Leaning Tower doesn't move, it runs out of time.
Of course, TSUKUBOT No.4 wins a decision.

An elementary school student ended up winning in a high-level battle of wits.
I was relieved that Tsukuru had the same smile as last year.
First round sixth game

Twin Fect Force
(Afurofu)

vs.

Tahiti
(Coin Courtesan)

Although there are size and weight limits, basically the form of the robot is up to each participant. So, an incredible point may decide the match.
Car washing…
Look at this free-wheeling form. This robot looks rather coarse perhaps because it's taped together with packing tape.

While this dreadful machine goes forward on 2 mini 4WDs, spins fast 2 brushes hanging from above, swallows its opponent, finally making it clean (Incidentally, Twin Fest Force is actually a car washing machine).

Here is its opponent.
The theme is "passion."
Two snakes meander violently on the Tahitian dancer's hips. You can avert your eyes from her red glowing eyes.

Car wash vs. Tahiti. Talk about mixed martial arts! But we never imagined that to be the difference between victory and defeat.
The car wash speeds forward at the start. It's far more agile than we expected!
As it crashes into Tahiti, which remains virtually immobile, both fumbling each other on the edge of the ring.
Tangled up, both go out of the ring. Who won?
Swallowing up Tahiti, Twin Fect Force went outside. What decided the match was this:
That green thing
The straw skirt. Actually, while struggling on the edge of the ring, Tahiti's straw skirt was hanging outside the ring!

"You lost because the straw skirt touched the floor." Even though we know it's an important point to decide the match, we can't help saying "So what?" This is so trifling.

A spectacular crash, and a heated struggle, tangled up. The audience cheered, so you felt more tension-removing afterwards.

First round 9th game

Hebo-ko
(Nomezu)

vs.

Dragnet
(Hachimoto)

Here comes the first Hebocon idol! Her name is Hebo-ko.
A modified dancing flower toy, she debuts as an idol who moves in response to the audience cheers.
Hebo-ko was made based on the following concepts: "I want to fight along with my fans." "I want to reunite everyone's heart." The size of her dream is appropriate for an idol. However, only her creator can believe that everyone in the audience is her fan and ready to cheer for Hebo-ko. Actually, people come to watch robot sumo. The key is how Hebo-ko can win the hearts of her potential fans in a real fight.

She's up against Dragnet.
As the name says it all, he intends to trap the opponent with his net.
With a cardboard box, he looks pop outside, but he has a soda bottle and a WiFi router (as a weight) thrown into inside, revealing a sense of internal chaos.

Idol vs. Man of sea. When opposing personalities crash each other, what would happen?
The bout begins. With many fans in the audience cheering (mostly, the creator), Hebo-ko twists and shakes her body in earnest.
When Dragnet begins to pull his net... Oh, Hebo-ko!
Maybe it was too much pressure to take for a newbie idol, she loses her balance and falls.
She loses her head. Hebo-ko!
Who would have imagined she would end up like this! She just tried to meet her fans' expectations!

When she appeared in front of the spectators, everyone was a bit confused at the sight of an out-of-place idol. However, as they started cheering her on, every one of them became her fan. In that sense, Hebo-ko remained an idol until her end.

Both in name and reality, Hebo-ko has become Hebocon's first idol. I will never forget you, Hebo-ko!
Here's a good scene from another angle.
1 round 11th match

Good at brushing teeth?
(S-kawa)

vs

Osaka Drill
(Akira)
Take a look at how creepy it looks!
As if it's alive...
I can't believe a commercially available tool kit moves in this manner. It reminds me of that American large dog robot.

It must be wool around the kit that creates this texture, but this felt is rather coarse.
It's not uniform at all, and parts that were added later stand out.
The creator claims that the concept is baby tooth, but it looks more like a tooth decayed by glue-sniffing. As it moves sticking a brush out, it asks, "Can you brush your teeth well?" It's nothing but a nightmare for kids.

Unfortunately, it goes up against a child.
Even younger than Tsukuru in the last tournament, Akira is a 3rd grader.
His robot is called Osaka Drill.
It's filled with Osaka motifs such as Osaka Castle and local comedian etc. A front object that looks like a tire is actually a drill and spins faster than expected. It only goes forward, but the body is solid, made of Lego blocks.
If you don't take him serious and dismiss him as a elementary school kid, this strong opponent will eat you alive.

Akira who answered no to the question "Are you good at brushing your teeth?" goes up against the teeth melted by glue-sniffing. Let's see how they fought each other in the video.
As the bout begins
Osaka Drill charges furiously spinning its drill
The melting teeth is kicked out of the ring in 0.2 seconds
This was the first moment when a robot made a beautiful parabola that day. Asked about her impressions after the loss, S-Kawa said: "At least I made people laugh." I included this bout where the loser lost most easily.
First round 12th game

Mr. X
(Cobra Kojima)

vs

Florist
(Yu Omura)
Mr. X (ミスターX) was created from the creator's vague memory of the villain from Japanese anime series "Pro Golfer Saru (プロゴルファー猿)."
Any online search tells you that he doesn't look like Mr. X at all.
As he failed to make his grand vision into a reality, he resorted to this machine in 5 minutes one day before the bout. It's totally a botched effort.

He goes up against Florist.
The concept is a "hybrid of nature and machine."
According to its creator, this machine questions nature, machine, civilization, and the way they should be. I understand what he wants to say, but it's just a piece of clay. The "nature" part looks so artificial, but you got to love this robot for being such a failure.

This bout ends in an unexpected way.
As the match begins, Mr. X starts moving backward and goes out of the rings
In addition to Robot Sumo's general rules, Hebocon has some rules addressing the low level of technology. According to one of them, it's going to be a rematch when a robot goes out of the ring without touching its opponent. This rule is supposed to assure a fair match for a robot who can't even move forward. However, a rematch is up to twice.
In a rematch, it goes out of the ring again. In the third match, he loses if he goes out again.
As expected, Mr. X runs in a wrong direction and goes out of the ring again.
Even a rule supposed to help Heboi robots didn't give Mr. X any fair chance. However, that brown bag contained a secret reason.
When the paper bag is removed, Anpan Man, a hero of a Japanese fairy tale appears from inside.
It was given to the creator by an old lady who lives near him when his child was born last year. How could he try to use such a thoughtful gift for military use?

In addition, this Anpan Man was forced to fight against nature. How is it possible for a hero to attack a beautiful flower? Furthermore, Anpan Man is a kindhearted hero given to a baby.
Beautiful flower
Actually, this Anpan Man is a toy that moves randomly, but the match result was not a coincidence. This clockwork hero chose coexistence with nature instead of fighting against it. As the creator of Florist wished, a fusion of machine and nature was born here...

This battle creates an epic drama to no effect whatsoever.
1 round 13th match

Tech Cemetery No. 2
(Tech Cemetery)

vs

Chti
(A Magi Is Nook)
In Hebocon strategies and deathblows are armchair theory. 70% of them fail to move in a real bout, and the rest move without any affect.

However, sometimes a planned strategy works a miracle. This is such a battle.
Tech Cemetery No. 2 is a grave.
It's a grave made of clay, however. It's soft. When it hits the opponent, it leaves bits of clay on the body. As it's soft, it can completely absorb the blow of his opponent. The creator says that he buried an amulet he bought from a shrine. He says he will win because of its divine favor, but I think burying it in clay will bring down divine wrath.

Such a strategy rarely works in a real bout. Let's see what happens in the battle.
Against a crab robot Chti
It's just a Tamiya kit with an outer shell taped coarsely. It's simple, but it may be stronger than expected because of luck of any craftsmanship. Unskillful people's craftsmanship tend to spoil efficiency of the material.

Incidentally, it took 4 people to make such a simple robot. Hebocon features many kinds of Heboiness, but a team of uselessly excessive members must be something new.

Let's see how the special move finished the opponent miraculously.
First, they crash each other in the middle of the ring.
As they struggle, Chiti's opened pincers, happen to fit into the corner of Tech Cemetery No. 2.
Then the tombstone starts to spin!
As the tombstone spins, it draws Chti toward its own caterpillar and pushes it out!
Tech Cemetery No.2's hidden move, spinning.
You may say, "A spinning tombstone? So what?" However, this surreal move can be used to throw the opponent depending on the situation. This time, it worked miraculously.

Incidentally, after the bout, the owners of Tech Cemetery wiped bits of clay off the ring before leaving. What a polite pair.
1 round 15th match

My Supper
(Sleepyhead)

vs

Son in a Box
(It Moves)
It Moves is a trio. Last year they participated in the first Hebocon with the strongest dirty hero Yamata-no-Orochin(8-branched giant penis). Using highly inappropriate materials, it played the role of a villain that hinders Hebocon's media exposure due to its inappropriate contents.
Yamata-no-Orochin
This time It Moves comes up with a new robot.
Huge!
The black plate underneath is the ring. This box is almost as wide as the ring. But at a closer look you realize it's slightly floating.
There is something...
The main body is made of such a large box, and its name is "Son in a Box." In Japanese, "son" is sometimes used as a slang for penis. Think of their last robot and you know exactly what's inside the box.

It's up against My Supper. Literally, it's supper made into a robot.
You should eat healthier than this...
One of its characteristics is its edible nature. A combination of cardboard box and chilled food generates a too real sense of life. You should pay attention to chopsticks. How ready it is.

Well, just as the last time, TV stations send us reporters. Will this Hebocon be included in the news segment? Or banned? It depends on this bout goes.
As the bout begins, My Supper starts to charge. However, Son in a Box doesn't even flinch as its grip on the floor is very strong due to the materials used. Please lose, Son in a Box! Please lose!
Sleepyhead blows air to make Supper move forward. But thanks to its grip, Son in a Box doesn't move an inch. Please lose, Son in a Box! Please!
Even so, Son in a Box is not safe from defeat. If time runs out, Supper will win as it covers a longer distance, so it needs to push Supper out of the ring and pushes it back to the opposite end.
After a while, Son in a Box steps out of the ring, perhaps because of a control failure!
As Son defeats on its own, Supper wins!

Just as the last time, the organizers, participants, and spectators united as one in this bout.
They say a common enemy solidifies the unity of your team. In that sense, this trio may be needed for the success of this event.

Thank you, Moved! (We can say this now that they are defeated)
Second round first game

NES Champ
(Moyashi)

vs

DGR-01
(Guruguru Park)

vs

AIBO
(Moeka Nishio)

vs

Human Connection
(Family Ties)
The second round consists of battle royals among 4 robots.

You can say this robot was the protagonist in the first game of the second round.
Human Connection (It's a robot's name)
It consists of radio-controlled model parts used with the younger sister, a skate board toy bought by Mother, and a hand-cranked generator borrowed from Father. It condenses one family's memories in one robot, Scotch-taped, embodying "Family Ties" (participant's name).
It's more agile than expected
After emphasizing so much connection, she appeared on stage alone, with her family nowhere to be seen. This created a certain air of sadness.

And she's up against the following three robots:
First, Daigoro, whom you have already met. DGR-0
NES Champ uses a Famicon (=Nintendo Entertainment System) as its body, and this dapper robot gives a flower to his opponent.
AIBO is the most daring in this tournament in terms of naming.
Except for Human Connection who has advanced to Second Round without playing, the other 3 are strong fighters who beat their respective opponents. Can family ties survive this battle royal?
As the bout starts, the four robots gather in the center. As a result, Human Connection is squashed in the middle.
Daigoro falls down as they struggle against each other. There seem to be only two robots left, but Human Connection remains in the middle.
In the end, AIBO pushes out the 2 other robots using the force of the caterpillar.
AIBO and the family which is scattered around
The family is broken up!
As its eyes glow red, demon dog AIBO mows down one enemy after another. I feel sorry for the broken family, but they were originally Scotch-taped to begin with. It can't helped that the family is broken up when a force is applied.

This bout itself seems to have become a social satire. The theme is the thinning of family ties.
While technology is low, Hebocon focuses on the setting and concepts. This bout made us realize that Hebocon surprises us with a social satire without knowing it.
Ms. Family Ties holds the remains of his robot. We ended up taking a strangely sad photo.
Final match

AIBO
(Moeka Nishio)

vs

Tech Cemetery No. 2
(Tech Cemetery)
Then, after Second Round, here came Third Round, and at last the final match. It's between those two:
Demon dog AIBO
Let me explain about AIBO in more detail. Generally speaking, AIBO was a toy dog robot manufactured by Sony. As the creator noted in her entry form that she would make a modern version of AIBO, I thought she would decorate the Sony AIBO in a modern style. Then, on the day of the tournament we saw a complete original AIBO made from scratch.
Look at the body as well
The body has a circuit board pattern printed over in detail (After all, it's completely fake as the pattern is painted over the wood).

Also, it comes with a built-in iPod, and we can hear a dog's faint barking (However, it's barely audible even through the microphone). In Hebocon's Facebook group, she asked how much decibel she was allowed to make a noise, but as the name of AIBO, what a bold move this is.


Also, its rival who has made to the final bout is the spinning tombstone made of clay Tech Cemetery No. 2.
Far right. It seems that its corners has become rounder than before.
As it happens, the final match pits one Tamiya's caterpillar kit against the other. The kits themselves seem to have the same performance, but who will be the ultimate winner?
A head-on collision! Their power rivals each other?
But there is a change in AIBO. Its neck has gone up?
Yes, AIBO's base is a bulldozer. It was hiding its scoop function until now.
AIBO just flips over Tech Cemetery.
I didn't notice this because of the mask, but AIBO was actually a bulldozer. It allowed itself to use the forbidden scoop move and beat Tech Cemetery.
Tech Cemetery beat its first opponent with its hidden move of spinning, but in the end AIBO's hidden move beat him.

The final match end in a very dramatic manner. AIBO is the champion of the Hebocon in Osaka. Congratulations!


On the next page I will tell you about each winner and other robots we haven't talked about yet.
Tech Cemetery No. 2 (Tech Cemetery)
Champion
Jury Prize
Daily Portal Z Award
Auto Nekoguruma (Konoeda)
Not only it's Heboiness for causing malfunction after a battery change, but its use of a toy cat is very interesting.
Jury Prize
Tamiya Award
Are you good at brushing teeth? (S-kawa)
Mr. Ishizaki from Tamiya Inc. said on the winner: "It seems to use Tamiya's sound sensor robot, and I was very impressed with its horrible appearance."

However, the winner S-kawa reveals the shocking truth.
"I think the kit was not a Tamiya."
Mr. Ishizaki ended up giving the Tamiya Prize to someone who didn't use his product. The organizers, participants, and even judges have turned out to be Heboi, completing the golden triangle of Heboi in this miraculous moment.
The lowest technology award
It's no exaggeration to say this is the Grand prize of Hebocon.
It's no exaggeration to say this is the Grand prize of Hebocon.
Hebo-ko (Nomezu)
Hebo-ko!

She lost her head despite her great efforts to win the hearts of the spectators! Eternal Idol Hebo-ko won the Grand prize!
After the award was announced, the audience cheered on Hebo-ko, whose neck was repaired (Because of the shooting angle, only the creator was apparently cheering, but the audience was actually with him).
The creator revealed his "Heboko Forever" T-shirt, which he wanted to show if Heboko made it to the final match.
The prize was a trophy made by a kindergarten child, one step up from the last contest's trophy made by an elementary school student.
After having lost her head on her debut, she reached stardom on the same day. Her eventful career has been too much to understand, but I hope she will be succeed as an idol forever (I don't know where, though).
Participating robots
Lastly, let's take a look at robots whose bouts we haven't covered yet.
Fueki Animal B (Hage-chang)
It features a package of Osaka-based company Fueki Nori Kogyo's glue. An action cam is placed on its head, able to film its fighting scenes. But the weakness is that any impact makes the camera spin.
Edisonu (Ham & Octopus)
This team entered the Mini Hebocon last year in November with a robot equipped with a homemade raspberry pie (reference to the Raspberry Pi). This time its robot makes a reference to Intel's Edison, but hardly anyone knows the Edison.
Breeze 2 (Ikki non)
It's supposed to move by its propeller, but the wind is too slow for it to move forward. The special move is a sponge hand and a double chop by the figure on its tip.
Yaxxto 5x1 (Chasen)
It's equipped with a gimmick that the aircraft hangar reveals the main body underneath, but it got stuck in there and lost in its first bout.
KONAMON Tank (Monsieur☆)
It flips takoyaki above its head, launching mini takoyaki from its front main canon. It's armed with a trowel on the lower front with three levels.
Kuwappi (Masato Ishikake)
The cart pulled by Kuwagata launches a net to tangle up the opponent.↵
Kuwappi (Masato Ishikake) The cart pulled by Kuwagata launches a net to tangle up the opponent.↵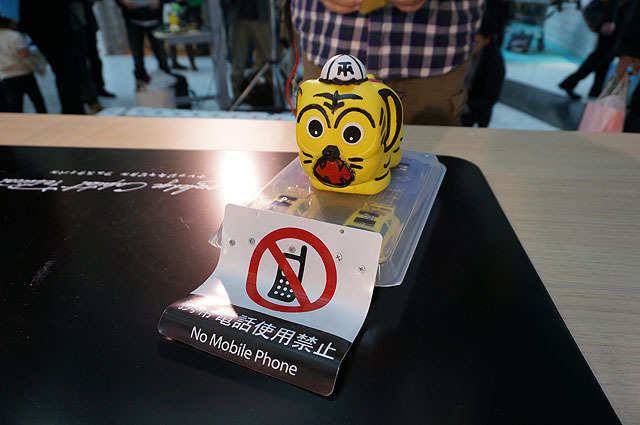 Mitsuru Hanagata 2000 (Heartland Shinji)
The underbody uses 4 remote controlled toy cars purchased from a 100-yen shop.
It's opearated by the iPhone (remote control attached to it), taking a risk of being penalized. Sometimes it uses camera flash to blind its opponent.
Pork No. 1 (Shiru Aoi)
The main canon is organic assault equipment (green onions). It rubs them against its enemy as a psychological attack. In the 2nd battle, the cannon was upgraded to konnyaku, even more unpleasant.
Bear (Fuko)
This is pure nightmare! It looks like a flowery cute bear, but its eyes glows in a scary manner. But when they don't glow, it's even scarier for revealing its white eyes.
It's cute while it dances
Super Robot 4D (Meat)
With the propeller, it sends out a good smell from the smelling bag. It's equipped with "Magnet Satellite," which comes out during a bout and starts spinning on its own.
Gorita-kun (Kantaro Yamashita)
In order to enhance its power, this robot utilizes 2 Tamiya's walking elephant kits. However, as they interfere with each other, it hardly moves. What a mess.
HK No. 1 (Charlie Hamaoka GP)
This robot sweeps the ring with brandishing rotating brooms. But its attacking force mostly comes from the axis supporting the brooms, rather than the brooms themselves.
This time the total of 31 robots participated in the competition!
---
A pile of garbage forever
Let's look at the photo at the beginning again.
It's still the same photo, but the robots start looking rather stylish... Maybe not. They are made of pieces of paper and commodity and unwanted parts, so when they gather together, they inevitably look like garbage.
However, we are proud that this is still the pile of garbage even after seeing so many dramas. What we are looking for is not a stylish robot, but shinning garbage. That's because a well-made robot is naturally cool, so it's more fun and weirder to see a cool piece of junk.
Hebocon will go on without forgetting Hebo's spirit in the future.
Let's meet at the next Hebocon!
For the latest news on Hebocon, see our Facebook page.